Shopping List For Your New Kitten
By Kathryn Brady

The first and most important thing you'll need for your new cat is a good vet. Ask your neighbors or breeder for recommendations. Interview your vet, you need to have a good relationship with him or her and the office staff. Always keep your vet's phone number handy. Let your vet know when you are going to be away and give the office the name of your cat sitter. Use this form to help your cat sitter when you're away.




You need to own a carrier.


A small carrier is fine if you're only going to use it to take your cat to the vet once a year. If you plan to travel with your cat make sure you get a carrier that can accommodate a small litter box. A hard sided carrier is safer in the car for your pet than a soft one.
Get a nice soft, washable pad for inside to keep your cat warm and comfortable.






You're going to need bowls.
You will need a large bowl for water (make sure to change the water everyday), and a medium bowl for dry food it shouldn't be too big because dry food should be left out all the time and you don't want the food to get stale. A small bowl should be used for canned food. I recommend ceramic bowls. Plastic tends to nick and scratch, and those tiny fissures can become a breeding ground for germs and bacteria. Also, many cats have an allergy to plastic, and develop a skin condition on their chins, resembling acne.






Next comes food.
A good quality dry food that is appropriate for the age and weight of your cat should be available to your cat at all times. A good quality canned food, appropriate for the age and weight of your cat is also necessary.
Canned food should be fed at least once a day at least 5 times a week as dry food alone does not provide enough moisture for your cat. You can add a vitamin supplement if you wish, but it's not necessary if they are eating both dry and canned food.





An occasional snack is fine; just make sure itís a nutritionally balanced cat treat and not something from your dinner plate.
My cats love Liv-a-Little Whole Chicken Treats. Just remember (and remind them) that itís a treat and should not be substituted for properly balanced cat food.





Since "what goes in, must come out" you will need a litter box.
The box should be big enough for your cat to comfortably turn around in. A hooded, or covered box is good for privacy and odor control. Clay or crystal litter is recommended.
Clumping litter should not be used. When cats lick their paws they can ingest small bits of litter and it can collect in the intestines and harden causing blockages.
You'll need a scoop to keep your cat's box clean. You should scoop your cat's box at least once a day.







A cat bed is nice.
Check out Your Pet Bed where YOU chose the fabric!
Cats like to cuddle in warm, soft beds; just make sure it's washable.
I like to keep them all over the house, on the sofa & chairs, at the foot of the bed, anywhere your cat likes to sleep.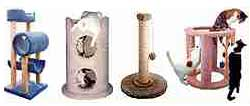 You'll want to buy a scratching post and/or a cat tree. Make sure it is tall enough for your cat to achieve a full stretch. Sisal is probably better than carpet as you don't want to encourage your cat to think it's also OK to scratch your rugs.







Grooming tools.
You'll want a brush and/or comb appropriate to your cat's hair length. A rubber brush works well on a shorthair cat. A pin brush is best for a cat with a longer coat.
You'll also want nail clippers; you can use common human nail clippers or ones specially designed for cats -- whichever is the most comfortable in your hand. Your cat's nails should be clipped every other week.




Now for the fun part: toys.
Siamese, Orientals & Colorpoints are known fetchers, so small, soft balls are a good choice. A teaser, feathers or fur on a stick are good toys for interactive play and exercise. My cats also love furry mice. Catnip toys are also good. Buy a few different items and your cat will soon have a favorite toy.